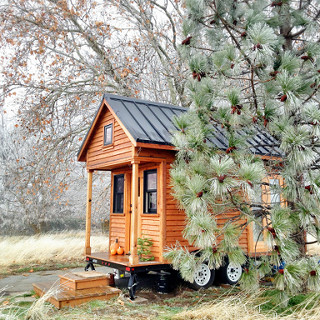 The founders and employees of Dynamx, Inc. have all enjoyed the off-grid lifestyle for over 25 years. Gas-Fridge understands the systems and usage of the propane appliances they sell, and they understand propane appliances. They have also been using propane refrigerators for over 25 years. They believe in what we sell and our staff has been trained by the manufacturers.
Gas-Fridge offers technical support by phone, and carry in service for repairs on all brands.
Occasionally we discover an article from the internet such as this one posted by The Tiny House that may need clarification. Gas-Fridge would like to point out some misinformation here.
The author should seek advice from a qualified professional, instead of someone who is not an authority. The fridge is not designed for the purpose stated in the article. It should be able to function reasonably well in its current configuration.
Look for user error or installer error. Start by testing the gas pressure. This unit switches from high to low flame to control the rate of ammonia solution circulating through the system. When gas pressure is set too high, then the low flame circuit is not low enough. This causes too much solution circulation and creates freezing.
Propane refrigerators are sensitive to gas pressure. Use a secondary regulator. Be sure to have the correct pressure from the regulator. Most other gas appliances are not that sensitive to pressure. Set the pressure spot to 11 inches of water column for your propane refrigerator, or EZ Freeze brand.
If that tests ok, then the thermostat may have been calibrated too high and the unit is switching back to high flame too early and switching back too late. EZ Freeze uses this same thermostat within both the gas refrigerator units and gas freezer units. The difference is how they calibrate them for the temperature range. Calibration for this unit may have been set leaning to a colder setting from the factory.
This unit does not have the best thermo-insulation design between the fridge and freezer so leakage between the two spaces is a factor. This fridge was never intended for full time living in a home. It was made for an RV. RV's are not built for efficiency; they are built for recreation or surviving away from home.
For more information on how Gas-Fridge can help with your RV gas fridge call 928-636-6674.