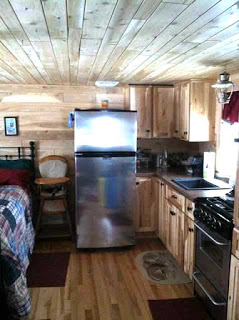 "Propane appliances are for off-grid living," says Gas-Fridge. Many dream of living off grid. No more connection to the big power companies. Control your energy use as you see fit. No more unexpected power outages. Being self-sufficient and green. Gas-Fridge discusses how switching to propane appliances can help to achieve this dream.
Cooking – while it is possible for folks to cook outside over a nice fire on occasion, the reality is that conditions aren't always great. Like when you have wind, rain, hail or snow, or maybe the firewood didn't get chopped. You had a nice meal planned to cook outside for your family… then out of nowhere a monsoon comes through, ruining those well thought out plans. If you had a propane stove installed in your house, you wouldn't have even noticed! There are many different types cooking devices available today, and with many different price points. Why not upgrade to an indoor propane gas range today and not worry about the weather outside when you're cooking a meal.
Refrigeration – keeping perishables cool is a major challenge for people living off grid. Not having that option means you can only purchase food for very short periods of time. Imagine if you were able to still live off grid, yet keep those yummy steaks cool until you were ready to cook them. Having a propane refrigerator would make off-grid living much easier. Our refrigerators feature a battery operated interior light, glass shelves, front mounted controls, crisper trays and reversible doors. No electricity required!
Freezers – Nothing like wishing you would keep your precious meats frozen until you wanted to use them. Off-grid living could mean no more meet until grocery day and then you could only buy what you could eat that day. There are many sizes and styles of freezers to choose from these days. Upright or horizontal. Our gas freezers have a single burner that powers a double cooling unit design mounted on the rear. This enables our freezers to produce freezing temperatures at a low gas consumption rate. No electricity required!
Propane appliances allow off grid living with some of the comforts and conveniences we are accustomed to. Gas-Fridge is the leader in off-grid appliances from propane to natural gas and solar in the Prescott area. Contact us for more information on any of our refrigerators, freezers, ranges/stoves, lighting, and cooling products. Contact Gas-Fridge at either 928-636-6674.