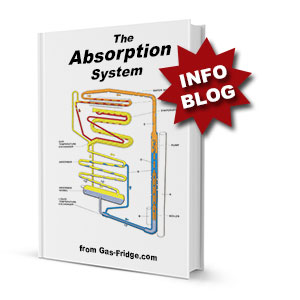 A non-functioning refrigerator in a recreational vehicle can be problematic. When the refrigerator is down, the RV becomes useless by limiting the ability to travel away from civilization and be self reliant. There are many engine mechanics that can get you and your RV back on the road. There aren't many RV Refrigerator Repairers that can properly repair your fridge and get you back to your way of life. Gas-Fridge can assist you with maintenance or repairs.

Until now, we haven't advertised this service. We repair refrigerators for local folks as well as vacationers from out of town. Many times the repair can be as simple as a fouled burner or as complicated as a leaking absorption cooling unit.
Most RV Refrigerators will fail early from the wear life of the unit and the wear life of the vehicle. The fridge might look brand new but will only need service or a repair. RVs travel a lot, leaving the fridge exposed to the elements, and it the will typically need more service than one that is static and in a home. The debris, dirt, road grime, and weather is hard on the burner and controls that are exposed to these elements.
An RV will go through periodic use, and since the fridge is turned on for short periods of time and then turned off for longer periods of time. Condensation develops as a result of this activity and will eventually corrode the cooling bars and cause a leak within the sealed absorption system. Boilers may crack from the constant heating and cooling of these metals. This is becoming more common with newer models. The electronic ignition will turn the flame on and off to control the internal temperatures of the refrigerator and freezer. Older models relied on a continuous flame that switched from high to low.
This would keep the boiler metals from flexing to a state where a crack would develop. We replace these absorption cooling units with either re-manufactured rebuilt cooling units or newly redesigned high performance cooling units.
For the larger model refrigerators, we can replace the cooling unit without removing the refrigerator from inside of the RV coach. Sometimes we replace the cooling when the customer removes a smaller refrigerator and drops it off. We also have the ability to ship the cooling unit directly to you so that you can do the replacement yourself. We have many options to accommodate you and your schedule.
Our maintenance service consists of cleaning the flue, burner, and orifice and is included in any repair or service we perform. This is an important service that most RV owners never perform and is the cause of the majority of the issues we find. We also replace control boards (if available), Igniters, and heat rods for those units that have failed electronics.
At Gas-Fridge, we can evaluate your RV refrigerator and give an estimate of repair and options for the specific problem. For more information and directions to our facility, just give us a call at 928-636-6674.