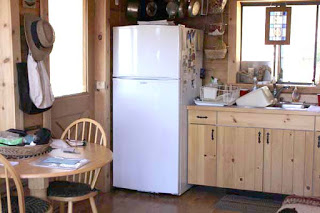 When you hear the term "gas-powered refrigerator," it is just that, a refrigerator that is cooled using either natural gas or propane rather than electricity. Refrigerators that are powered by gas can be used in household, RV, and commercial uses. Propane is commonly used since it is easy to handle and portable. Gas Fridge specializes in gas refrigerators that can be fueled by either natural gas or propane.
Household-style gas refrigerators are designed to operate without electricity. You will often find these models in "off the grid" homes or homes without electric service. These models are more simple in design, as compared to the electric-powered refrigerators. One advantage of the simple operation is maintenance costs are kept at a minimum.
If the gas refrigerator is needed for household use, it is best to purchase a refrigerator with the capacity to hold several days' worth of food, rather than a salvaged RV model with a capacity for only a two- or three-day supply.
If you are fortunate enough to have an on-property gas well, you are getting as close to free utilities as you can by using a gas refrigerator. An EZ Freeze Refrigerator is completely non-electric requiring only propane or natural gas to operate.
Why buy gas refrigerators from us:
All units purchased through Gas Fridge include the free Upgraded Cooling Unit Warranty. Enjoy peace of mind with the 7-year warranty on the Cooling Unit along with a 3-year warranty on the entire unit. This is the best warranty in the business.
You can learn more about the different types of gas-fueled refrigerators and the best fuels to use by calling the experts at Gas Fridge at 928-636-6674.